CHIMNEY INSPECTIONS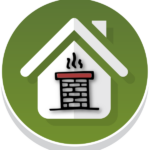 Level II Chimney Inspections are recommended before you purchase a home, and especially before you use a fireplace for the first time after buying a property.
You may schedule your level II chimney inspection online at the same time you schedule your home inspection. Please keep in mind 48 hour notice is requested to ensure your chimney inspection will happen on the same day as your home inspection. Less than 48 hours notice may result in the chimney inspection being conducted separately from the home inspection and may require your realtor to be on-site during the chimney inspection.
A Level II chimney inspection includes inspection of the:
Damper

Smoke chamber

Flue liner system

Exterior chimney stack

Flashing

Brickwork

Crown

Weather cap

Firebox

Camera-scan of the flue.


Your report will include a written synopsis of findings from readily accessible and visible portions of the fireplace and chimney.
Chimney inspection reports will be sent out the day after the inspection was conducted. (Note: this differs from your home inspection report which will be delivered same-day.) As a courtesy, if repairs are needed, an estimate for recommended repairs will also be included.
If we can help answer any questions, please don't hesitate to give us a call!
Schedule Now
Call us or schedule online.
"I had a home inspection & chimney inspection done on a home I am planning to buy. Honestly Todd & his team were amazing, they were able to get the inspection done within the 7 days the seller requested for getting it done. And Todd was very detailed in his report which I loved, it let me know what needed to be done or to watch out for within the house and was very detailed compared to passed inspections I have had done on houses. A+ to the whole team!."
"Tom was AWESOME. So thorough. We really felt like we know exactly what we're getting after our home inspection. He went over everything we may need to fix in the future; and how to go about getting it done. We really felt strongly that we hired the best inspector out there! I will be recommending to everyone I know."
"Todd was knowledgeable & thorough. Scheduling was quick & easy as was making payment. It was reasonably priced, too."
"Branch Property Investigations did a great job for our inspection as we were buying our first home. They were responsive & very thorough. Tom was great! Could not be happier."
FREQUENTLY ASKED QUESTIONS
When do you need a chimney inspection?
Branch Property Investigations
2022-10-19T08:56:33-05:00
We recommend a Level II Chimney Inspection before you purchase a home and especially before you use a fireplace for the first time after buying a property.
Annual chimney inspections and cleanings are recommended as part of routine home maintenance, and especially when there's been a change in the status of the fireplace. This includes positive changes, like remodels and renovations. This also includes negative circumstances, like a fire, flooding, or structural damage.