Branch Property Investigations has performed nearly 1,000 radon tests over the past five years in the Twin Cities Metro area. Roughly 30-35%  of the homes we've tested have had dangerously high radon levels. If you learn your home's radon levels exceed the 4.0 pCi/L action level, the Minnesota Department of Health recommends radon mitigation. Our company does not perform mitigation but we field a lot of questions pertaining to it. So, today we'll discuss how radon mitigation systems work. 
What is Radon Mitigation?
Radon mitigation is any process or system that reduces radon concentrations in homes or other buildings. The goal of the radon mitigation system is to reduce the indoor radon level as low as reasonably achievable. All systems should reduce radon below the EPA action level of 4 pCi/L (picocuries of radon per liter of air). A quality radon mitigation system may reduce year-round levels to below 2 pCi/L.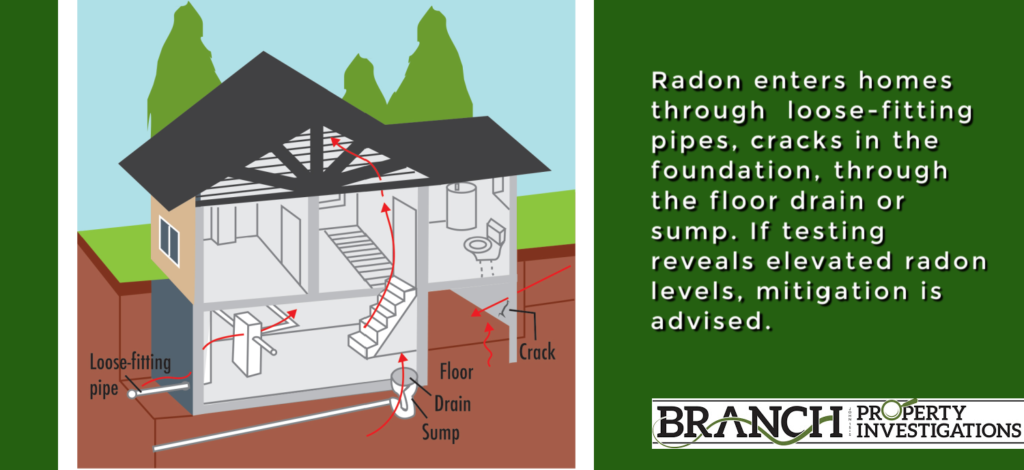 What Determines Which Mitigation System Is Best for My Home?
A home's foundation-type helps determine which radon mitigation system will ultimately work best. A licensed radon mitigation professional should determine the type of mitigation system to install and may conduct some diagnostic testing. Here is a list of Radon Mitigation Professionals licensed by the state of Minnesota. (Online reviews are a great way to narrow down your candidates!)
Radon mitigation systems use a fan to continuously pull air from the soil and exhaust it outdoors through a pipe.  This suction depressurizes the sub-slab area of the basement so that radon is more likely to go through the mitigation system than into the basement.
The pipe may run either inside or outside the house and discharges the radon gas outside. It should be placed away from the home's windows and any other openings to prevent re-entry. During mitigation, cracks and any other openings in the foundation are sealed. This limits radon's entry into the home and makes the entire mitigation system more efficient.
Understanding the Differences in Radon Mitigation Systems
There are three types of systems commonly used for radon mitigation.
Sub-Slab Suction: This type of mitigation system pulls radon directly beneath the home's foundation and vents it outside.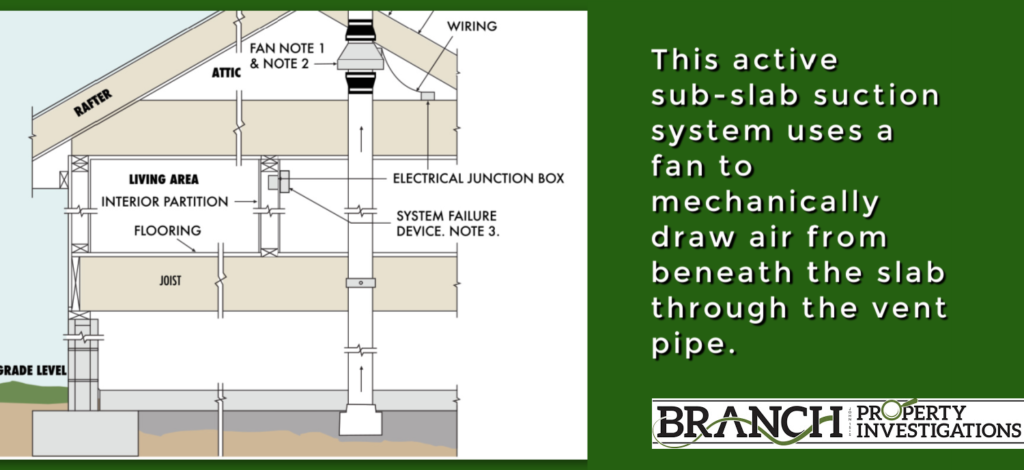 Drain-Tile Suction: Pipe penetrates through a sump basket cover into the drain tile and vents the soil gases outside. Covers are placed on the sump baskets creating a seal. 
Sub-Membrane: This type of mitigation is used in crawl spaces. A plastic sheet covers exposed dirt on the floor. The sheet extends up onto the wall and is sealed. Then, a radon pipe penetrates the plastic sheeting, pulling the soil gas from the crawl space and vents it outside.
Radon Mitigation System Parts
As I mentioned earlier, a professional mitigator is trained to decide which system is best suited for your home. He or she will likely refer to the following components so it's helpful to have a basic understanding.
Radon Fan – This fan is located in an unconditioned space, like an attic or outside. It prevents radon from leaking back into the home. The fan can be hard wired or plugged into an electrical junction box.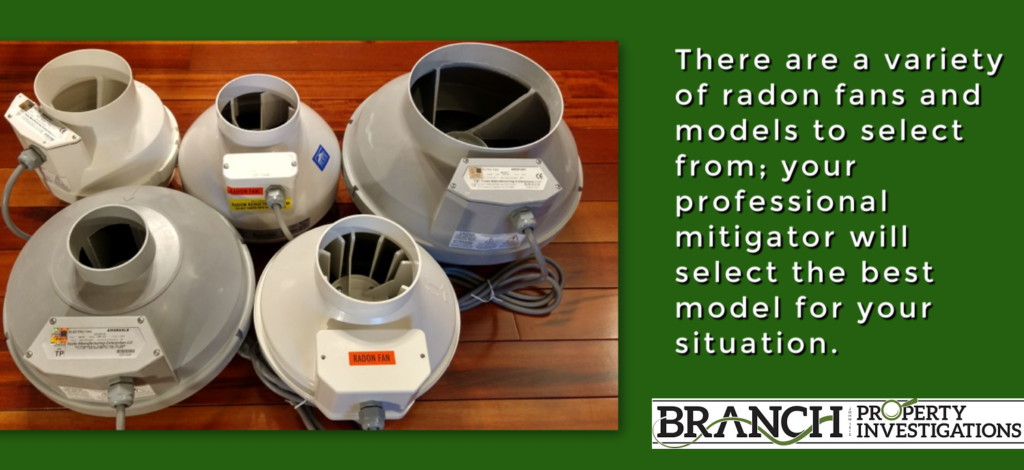 U-Tube Manometer – This is a monitoring device that is installed with every mitigation system, typically on the main pipe in the basement near eye level. The u-tube manometer visually indicates the fan is working.
Radon Pipe – This pipe carries the radon away. The vent discharge should be at least 10 feet above ground and 10 feet away from windows, openings, doors, openings to adjacent buildings, and above the edge of the roof.
Radon System Tag – This notification is placed on the system by a licensed radon professional once the system is complete.  Note that the Minnesota Department of Health now requires a tag on every new installation.
Approximate Costs of Mitigation
With the Minnesota passage of the radon licensing act for mitigators in 2020, pricing has trended upward a bit. The cost of the system is dependent on a number of factors, such as: (1) whether the radon discharge tube runs inside through the attic or outside along the wall, (2) the type of soil which can dictate the size and number of radon fans (3) the number of radon pickups needed (4) the amount of effort needed to seal cracks.  We hear from our clients that systems can range anywhere from about $2,000-$5,000 for a typical residence.
Radon Mitigation in My Own Home
I first tested my home for radon in 2016 and the result was 2.9 pCi/L. The following year I re-tested and the radon levels measured at 5.5 pCi/L. In 2019, I tested all three levels of our home. All levels were above 4.0 pCi/L with the basement at 6.8 pCi/L! I opted for a mitigation system and now the radon levels are below 0.5 pCi/L. 
Once your new radon mitigation system is in place, a post-mitigation radon test should be done. This should occur no sooner than 24 hours after your system is in operation with the fan on. 
Given our company does not perform mitigation, there is no conflict of interest and we perform a great number of post-mitigation tests. If we can help test your home for radon, please call (612) 440-8466 or schedule an appointment online through our website.