RADON TESTING SERVICES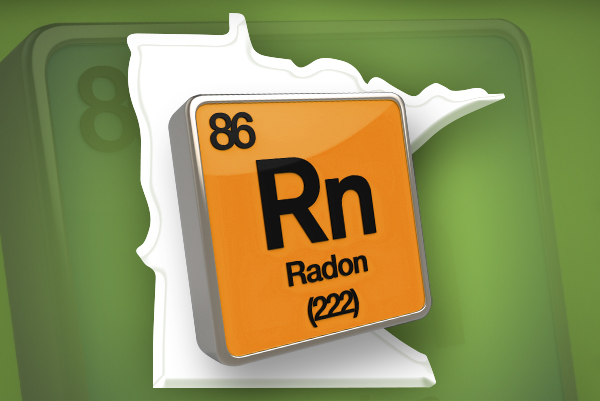 Since radon gas has been identified as the second leading cause of lung cancer in the United States, prudent realtors and home buyers want to discover if a home is contaminated prior to owning the house.
Radon In Minnesota
The lower half of Minnesota (including all of the Twin Cities and surrounding areas) has been identified by the EPA as the highest zone, Zone 3, for radon concentration. Because of this high radon concentration, there are a significant number of homes in our area that exceed the danger level of 4.0 pCi/L.
Expert Testing by Certified Professionals
Using the best technology available, we provide on-site continuous radon testing with registered and calibrated devices to ensure the most accurate counts possible. This includes a graphical report showing hour-by-hour variations in radon levels. The report is emailed the same day the 48 hour test finishes. We are a Certified Radon Measurement Provider, having attained that certification through the National Radon Proficiency Program (NRPP) so you can be assured that you are getting an expert evaluation of the test results.
Schedule Now
Call us or schedule online.
"Very professional and responsive across the entire team! Highly recommend to anyone who needs radon testing done at their home."
"I had a great experience with my radon testing. Everything from the process & cost to the results was very well-explained. Communication was also a breeze. I hope to be in our new home for a long time, but look forward to using Branch Property Investigations again someday!"
"We would like to thank Tom for taking the time to perform a thorough home inspection. The knowledge conveyed in the process was invaluable. We will be sure to recommend Branch Property Investigation services to anyone we know in need of a home inspection and home education! Tom was very friendly and knowledgeable. His advice will be extremely helpful to me in our new home."
"Had a radon and house inspection done. Very, very easy to schedule, and Tom was very professional. Full report provided digitally day after. You can tell he's been around the block. Would book again in a heartbeat."
FREQUENTLY ASKED QUESTIONS
What is radon?
Branch Property Investigations
2020-01-31T09:23:44-06:00
Radon is a radioactive gas. It is colorless, odorless, and tasteless. It enters your home the same way air and other soil gases enter your home: through cracks in the foundation floor or walls, hollow-brick walls, and openings around floor drains, pipes and sump pumps. Unless you test for it, there is no way of telling how much radon is present.
Radon is formed by the natural radioactive decay of uranium in rock, soil, and water. Low levels of uranium occur naturally in the ground and can be found in all 50 states (although the average radon level in Minnesota is more than three times higher than the national average!) Once produced, radon moves through the ground to the air above. Some remains below the surface and dissolves in the water table flowing underground. 
When radon undergoes radioactive decay, radiation is emitted in the form of alpha particles. It also produces decay products, often called progeny, some of which are also radioactive.
Unlike radon, the progeny are not gases and can easily attach to dust and other particles. Those radioactive particles can be transported by air and can also be inhaled.