SEWER INSPECTIONS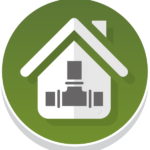 Sewer scope camera inspections are important because any problems with the main sewer line are the financial responsibility of the homeowner. Buyers take note: If there are problems with the sewer line that routine sewer cleaning won't solve, the repairs will likely be expensive.
No age of home is immune to sewer problems. While it's unlikely, even new homes can have problems with the main building drain. As you might imagine, the potential for problems increases with the age of the home and proximity to trees. The decision to have a sewer inspection done will ultimately come down to your tolerance for risk.
Our sewer inspections are typically scheduled online at the same time the home inspection is scheduled. 48 hour notice is required to guarantee the time slot requested. Less than 48 hours notice may result in the sewer inspection being conducted separately from the home inspection and may require your realtor to be on-site during the sewer inspection.
All sewer inspection reports will be sent out the day the inspection was conducted, typically in the evening.
If we can help answer any questions, please don't hesitate to give us a call!
Schedule Now
Call us or schedule online.
FREQUENTLY ASKED QUESTIONS
What does a sewer inspection entail?
Branch Property Investigations
2021-08-18T12:57:15-05:00
A professional inspector will inspect the sewer line of the home by inserting a flexible borescope camera into the pipes. Then, while recording, the camera will be guided into the sewer line, which drains the home's wastewater into the sewer system.
Using this camera, the inspector will perform a comprehensive inspection of the sewer line, and look for things like cracks, damage to the lines, roots that have grown through the pipe, and any other potential concerns.