Many buyers are opting to forego an inspection in this highly competitive market! So, how do sellers protect themselves from claims made after the buyer moves in, suggesting the seller hid something? A pre-listing inspection offers great protection for the sellers (and their advisors) and helps facilitate a smooth transaction for all parties. 
We can help by providing a thorough, independent look at the property. Our highly detailed report includes photos, annotations, and recommendations for action. The buyer is helped and the seller is protected — that's a win-win! Today we will address some of the common questions we field pertaining to pre-listing inspections.
Is There a Difference Between a Pre-Listing and Buyer's Home Inspection? 
The only difference is for whom the inspection is being conducted. The scope of our inspection is exactly the same. We will check proper functionality of all major systems and components of the house. This includes: heating and cooling; electrical, plumbing, roof and structure, siding, and doors and windows. Sellers typically reach out to schedule their pre-listing inspection in the months or even weeks leading up to putting their home on the market. If any major issues are brought to light, it's nice to have some time to explore repair options rather than being caught off-guard in the midst of a transaction.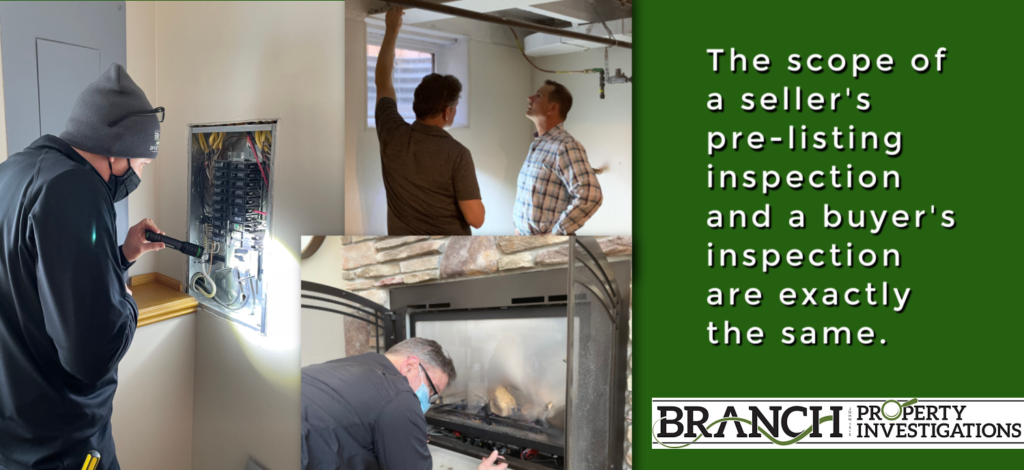 Does the Seller Have to Disclose All Defects Listed in the Pre-Listing Inspection Report?
Sellers and their agents have a legal duty to disclose to buyers any property issues revealed in a pre-listing inspection report. This makes some sellers nervous that costly repairs may be necessary, but even still, the seller remains in control of the process. They can choose to repair defects prior to listing or they can factor necessary repairs into their asking price. A third option in this market is to disclose and not perform repairs. No matter which route sellers choose, being transparent in the process helps eliminate fear of unknown surprises and instills confidence in prospective buyers. It also protects sellers once the purchase process is completed.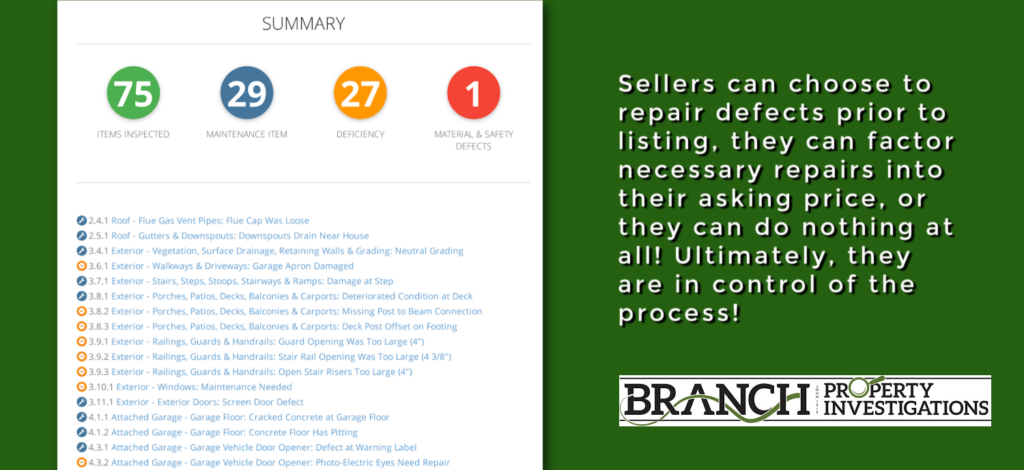 Why Bother When the Buyer May Order an Inspection Anyway?
The value to the seller is that a pre-listing inspection makes them aware of issues in advance of negotiating a purchase agreement. It also allows them the chance to fix issues or have them accounted for up front in the asking price. Ultimately, it gives the seller better control in marketing their home and helps minimize the stress of negotiations. Realtors often report that homes that have a pre-listing inspection generally sell faster and have fewer inspection-related issues to negotiate, allowing for a more "clean" transaction.
What Should a Seller Do if a Pre-Listing Inspection Reveals Significant Defects?
It's always better to have this information sooner rather than later! Once issues are identified, they can be carefully assessed for proper resolution. Depending on the nature of an issue and market dynamics, a seller shouldn't automatically assume that defects need to be fixed before putting the home on the market. A savvy realtor can advise whether the repairs are necessary to the viability of the sale.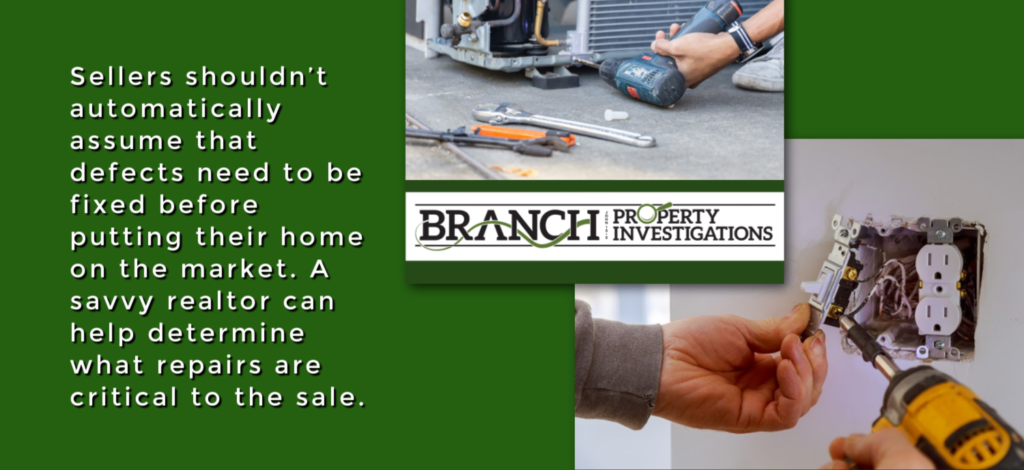 The Pre-Listing Report is Also an Asset to Buyers! 
We've learned that many buyers appreciate being provided a detailed report of the property condition. No home is perfect; the report carries practical value as well as the seller's good-faith effort to demonstrate integrity in this transaction. Buyers receive facts to work with, and then they're provided subsequent clarity on which issues have been or will be resolved as part of the transaction. It's always helpful for sellers to provide recent repair receipts or updated maintenance or warranty information as well! 
A Pre-Listing Inspection is a Worthwhile Investment for Sellers! 
A pre-listing inspection can ultimately save sellers money in the long run. First, by being aware of and disclosing known property issues up front, the seller can share that consideration for those items has already been factored into the list price. It helps to minimize negotiable items (and the stress that accompanies this process!) Second, the seller can choose to repair the issues prior to listing, which gives them more control over repair costs. For instance, the seller isn't forced to use the first available roofing contractor but can get a few different estimates. Third, it provides important protection for the seller after the sales process is completed.
If you're considering listing your home in the greater Twin Cities metro, we'd love to be part of your preparations! Please call (612) 440-8466 to schedule your Pre-Listing Inspection or visit our website to Schedule Online.