In our booming Twin Cities housing market, flips are becoming increasingly common. A flipped house is a renovated and aesthetically-improved version of an older property. Flips are not intrinsically bad–in fact there are some pretty impressive ones! But as inspectors, we see some common issues to keep an eye out for if you're considering purchasing a flip.
First Off, Let's Define "A Flip"
A flip house is a property purchased with the sole purpose of turning it around to sell it for a profit. These undertakings are typically done as fast as possible to minimize the cost to "the flipper". The longer this home sits, the less money the flipper makes. So, the flipper has a financial interest in getting things done as quickly as possible in order to make more money.
Flips can be incredibly appealing because they often boast stunning front-yard landscaping, and beautifully-updated kitchens and baths. When well done, such as by a company like The New Old House Company, they provide vitally important features of rejuvenating neighborhoods, modernizing old homes and improving the safety features to comply with today's standards. Unfortunately, not all house flippers take such a rigorous approach to renovation, so it's critical you keep a watchful eye out for the following common issues:
Moisture Intrusion
A property with previous moisture damage can be costly to repair, so some flippers try to hide or disguise the problem rather than spending money to properly fix previous damage. If the flip has a new roof, it's wise to check that gutters and downspouts have also been installed. Be on the lookout for newly-installed paneling (especially where it looks to be installed for aesthetic reasons only).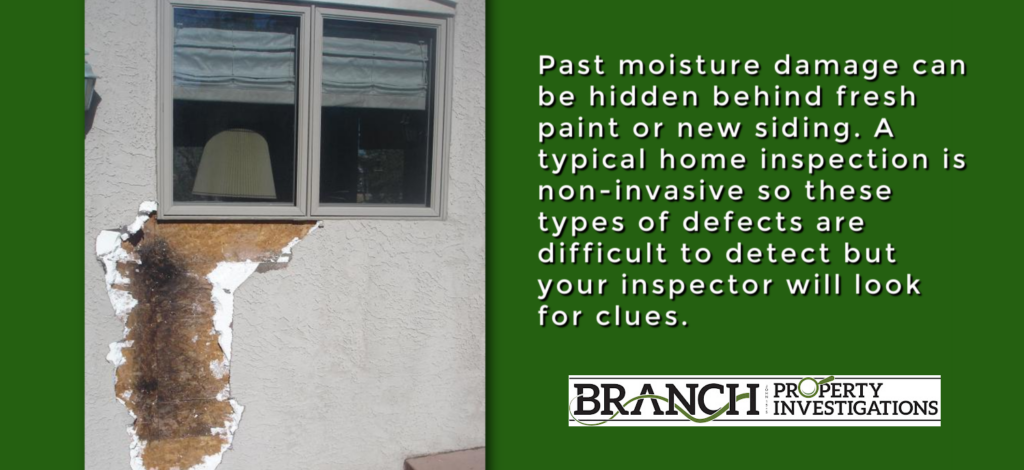 Sellers often fail to disclose past moisture issues because they have never actually lived in the home. If the flipper does make a disclosure but it's unclear the extent to which the issue has been resolved, it's worth investing in a moisture intrusion investigation. The inspector will use special tools to detect hidden moisture and identify areas that may continue to be an issue in the future.
Attic Defects
The attic is an area where some flippers cut corners so it's important to have the attic inspected by a professional. Flippers know most people don't care if the attic is "pretty" and can't tell if it's properly vented or sufficiently insulated, so they won't invest in upkeep or repairs. Moist air can escape from a house into the attic through bathroom fans and light fixtures. This is a ripe environment for mold to grow, and it's typically out of sight (and out of mind) until investigated. Cleaning up moisture damage, replacing insulation, mitigating mold, or increasing ventilation in the attic can easily cost hundreds if not thousands of dollars, so it's important you go the extra mile to know your attic is in good shape.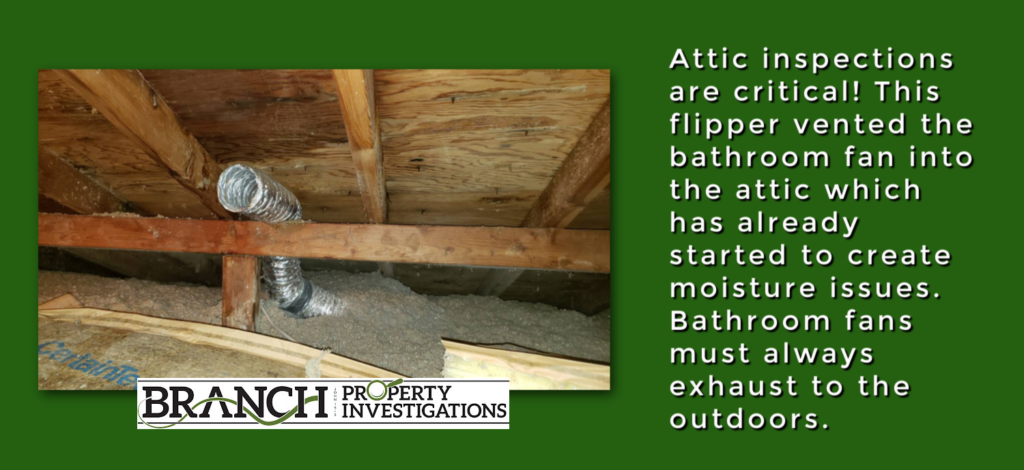 If the home's attic hatch is sealed shut, the flipper may be hoping you don't bother inspecting that space. This is your chance to gather as much information as possible about your potential purchase, so we recommend you request the attic be unsealed for inspection. 
Kitchen Issues
Kitchen renovations typically feature new appliances and upgraded countertops, but it's key to look at some finer details. Some flippers purchase "cabinet kits" and proper spacing is not always a consideration before installation. Check to see that all your cupboards and drawers open properly. Can you stand at the sink with the dishwasher open at the same time?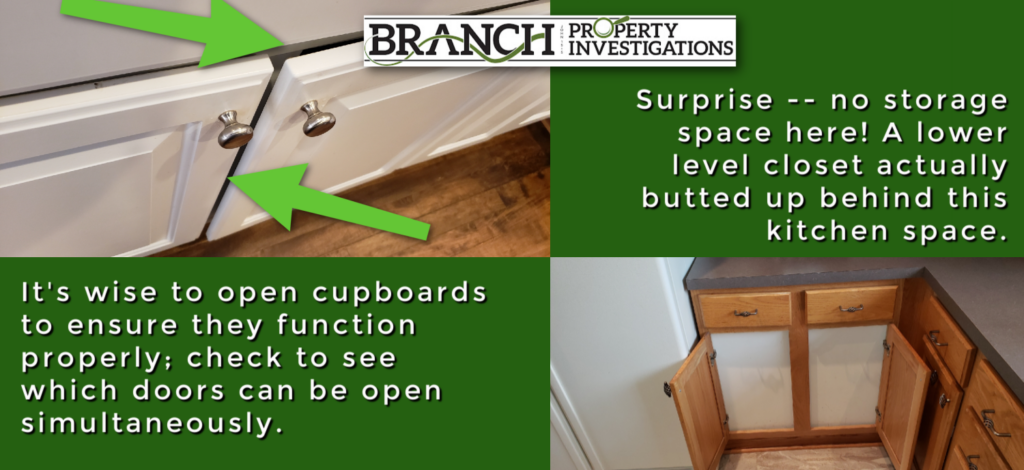 Are there outlets along the backsplash and in the center island? You should find at least two 20-amp, 120-volt circuits to supply power to GFCI (Ground Fault Circuit Interrupter) receptacles for countertop and eating areas. If there is new flooring, is there an air-vent allowing warm or cold air to the kitchen? (This could also be on the wall or the ceiling. But sometimes with a quick floor-install, the vent gets covered up in an effort to save time.) 
Window Condition
Whole-house window replacement is one of the biggest improvement-investments a flipper can make. If the windows look new, it's a good idea to inquire about what type of windows were put in by the seller. Were they the cheapest option? Will the warranty transfer to the new homeowner? Do the windows have screens and function properly? It's not a bad idea to open and close every window. Many inspectors only check a representative sample in the home. If the windows are not new, it is very important to check for signs of moisture intrusion, wood rot, and general deterioration as repair or replacement will be costly.
Electrical Panel
Most flips happen on older homes and many of these still have their original electrical panels. Some flippers won't see much return on making repairs or upgrading the panel. (Not to mention that it costs thousands of dollars to replace!) So we often uncover electrical issues during our inspection. 
Keep an eye out for "knob and tube" wiring. Upgrading the home's wiring involves cutting through walls and ceilings so some flippers avoid this extra expense if they can. Knob and tube can become a safety hazard if improper modifications are made or building insulation is added. It also lacks a ground wire, making it incompatible with modern three-prong appliances and devices.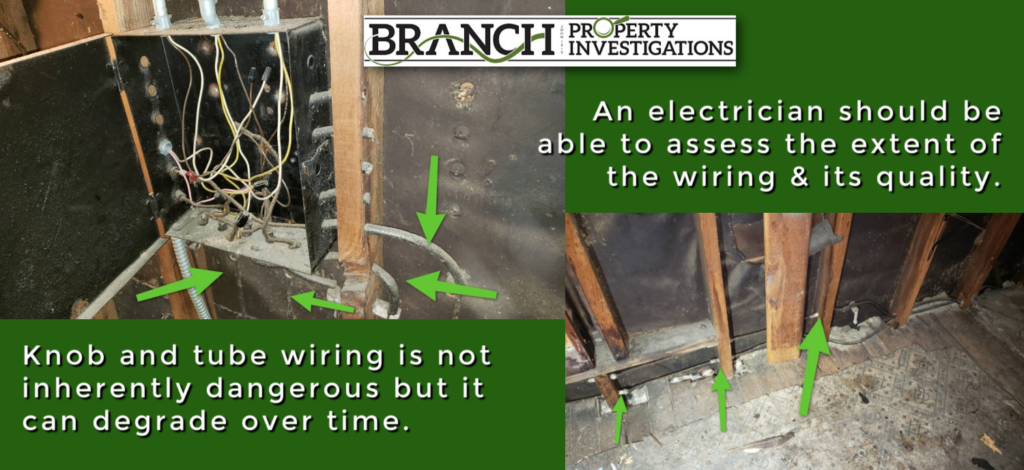 While some home renovators use great detail and system upgrades as part of the home flipping process, others cut corners. They seek to mask or disguise underlying issues. An experienced home inspector could prove invaluable in helping you uncover information about a rejuvenated property! We'd love the chance to help, please call (612) 440-8466 or visit our website to schedule online.