Fall is upon us and Minnesota-winter will be here before any of us would like to admit! I recommend taking advantage of these moderate temps by scheduling routine maintenance or repairing any outdoor damage before the first frost sets in. The laundry list can feel a bit overwhelming but is pretty manageable when spread out over the course of a few weeks. Here are some home maintenance ideas to keep your home running in peak condition!
EXTERIOR MAINTENANCE
Check your home's foundation for cracks and then caulk around areas where pipes or wires enter the house, where masonry meets siding, and around the windows and door frames to prevent heat from escaping. If water penetrates these openings, it can freeze and result in cracks, and eventually mold can set in. A careful check around the outside of your home combined with inexpensive maintenance can save you money in the long run.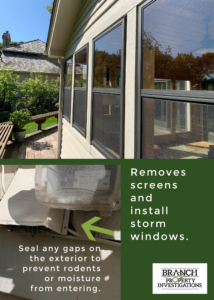 Remove window screens and install your storm windows and doors. Install weather-stripping or caulking around windows and doors to prevent drafts and to lower heating bills.

Make sure your roof is in good shape by looking for missing or loose shingles. Ice, snow, rain and wind combined with rapidly changing MN temperatures and humidity wreak havoc on roofs. Your roof is your first defense in protecting your home. Without it functioning properly, water damage can occur. This causes deterioration to insulation, wood and drywall, causing vulnerabilities in electrical, plumbing and HVAC systems. It's better to proactively deal with repairs in the fall than to discover a leaky roof during a snowstorm. For safety's sake, have a licensed, certified roofing professional check the condition of your roof.

After leaves have fallen, clean out the gutters and downspouts, flush them with water, inspect the joints, and tighten brackets if necessary. Clogged gutters are one of the major causes of ice dams. I recommend replacing old or damaged gutters with new ones that have built-in leaf guards.

Make sure the seal between your garage door and the ground is tight to prevent drafts and keep out small animals.

Inspect your driveway for cracks. Clean out and repair any damage with driveway filler, then coat with a commercial sealer.
YARD, GARDEN & GARAGE
Clean and store your summer gardening tools.

Clear leaves from the lawn, reseed patchy areas, fertilize, and plant spring flowering bulbs. If deer are a problem, start deer-proofing by covering plants with netting and chicken wire.

Drain garden hoses and store them inside. Winterize your sprinkling system and shut off any outdoor water valves. (Any water left in exterior pipes and faucets can freeze and expand breaking the pipes.)




Drain fuel from all gas-operated equipment such as lawn mowers, leaf blowers, and chainsaws.

Check to see that all of your snow equipment is up and running before the first flurry falls. Organize your snow-clearing gear. When snow arrives you'll want to have shovels, roof rakes and snow blowers where you can get to them.
PORCH AND DECK
Check the supports, stairs, and railings on porches and decks. Make sure the handrails can support someone slipping on snow or ice.

Clean porch and deck furniture, and look for any needed repairs. Cover and store outdoor furniture and grills in a protected area.

Make sure all soil is emptied from pots and planters. (Dirt left in clay pots will freeze and cause the pots to crack if left outside.)
INTERIOR MAINTENANCE
Wash windows.

Clean ceiling fans and lights (replace any blown light bulbs).

Clean carpets (rent a machine or hire a professional).

Dust or vacuum the coils on the back of your refrigerator.

Clean or replace humidifier filters which help to keep the moist air clear of any impurities. Filters remove particles and bacteria from the water before it is dispensed into the air which prevents exposure to unhealthy air. Ideal in-home humidity levels should hover around 45%. Anything under 30% is too dry, over 50% is too high.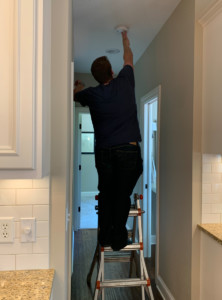 Test smoke and carbon monoxide detectors (this is a good time to replace the batteries).




Replace furnace filters and vacuum vents.

Inspect and clean your chimney (hire a professional if needed). 
I often remind clients that homeownership is both a joyful experience and an important responsibility. Tackling this checklist annually will help eliminate many surprises on your property; by addressing the inevitable small-to-moderate issues you will help to prevent major ones (and the accompanying expense!) Call on Branch Property Investigations to inspect your property every year to keep your family safe and your home in good condition for years to come!