Your outdoor air conditioning unit has been sitting outside all year, collecting a year's worth of dirt and debris around its cooling fins. If you want to keep your air conditioner running with high energy efficiency, we recommend you clean out those grass clippings, leaves, dust, and dirt. The build-up is unattractive in your unit but more importantly, it's most likely costing you money! Cleaning your AC unit will not only reduce your energy costs, but you'll also extend its lifespan, saving money on repair or early replacement.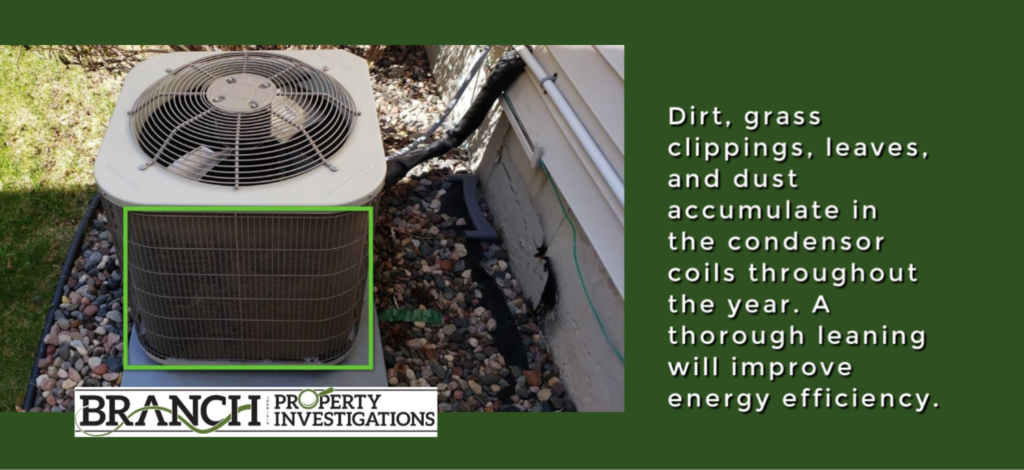 Today we'll outline how you can clean the outdoor AC unit (condenser coils and fins) — without paying a pro. This job is fairly simple but requires care so you don't bend the fins or move the tubes around. So, if you're not comfortable with the steps outlined below, or fear damaging your system, make an appointment with an HVAC contractor. 
Tools Needed to Clean the Outside Air Conditioning Unit
Air conditioner coil cleaner (follow your air conditioner manufacturer's recommendations when selecting a cleaning agent; we'll provide some options below)

Vacuum cleaner with soft-brush attachment

Water hose with sprayer

Work clothes, gloves, and eye protection
Steps to Clean the Outside air conditioner unit
Turn your thermostat to "Off."

Find the electrical disconnect (a metal box) near your outside unit, usually on an exterior wall.

Open the electrical disconnect and find the switch that turns off the air conditioner. This may be a pullout switch or a circuit breaker shutoff. Simply pull the plug out or flip the switch to the "Off" position.

On the exterior condenser/compressor, remove the fan cage. Using a screwdriver or wrench, remove the fasteners and lift the cage or fan grill away from the top of the unit. 

Use gloved-hands to remove any large pieces of debris from the unit. 

Delicately vacuum the condenser fins with a soft-brush attachment. Be careful not to bend any fins.

Use the water hose spray to clean off loose debris (grass, leaves, etc) on the outside unit.

Never use a pressure washer because the pressure can damage the fins. 

Spray the outside unit with the coil cleaner. Here is a

2020 Guide to the Best AC Coil Cleaners

 by "HVAC Training 101". 

Wait 10-15 minutes as the cleaner foams and bonds with the dirt on the coils.

Rinse the coil cleaner off with the hose.

Once finished with the cleaning, replace the fan cage. 

Rake back leaves and debris outside the condenser and cut back branches and vegetation at least 2 feet in all directions to ensure proper airflow around the unit. 

Turn the power back on (at the wall switch) and also turn the thermostat back on indoors.

While some AC maintenance can be done by savvy homeowners, it's still necessary to have an expert technician check the system periodically. We hope cleaning the unit is something you can now do with confidence by yourself!